Kilkee's Round Poly Rainwater Tanks

For a no obligation free quote on your Rainwater Tank project get in contact with our friendly team to find out more.

Free delivery to a wide range of South Australia

Capture clean drinking water for your home, livestock or garden

Proudly Australian made, proudly South Australian

20 year manufacturers warranty

Call to speak to one of our friendly staff
Benefits of owning our Kilkee Rainwater Tanks

Backed by 20 year Guarantee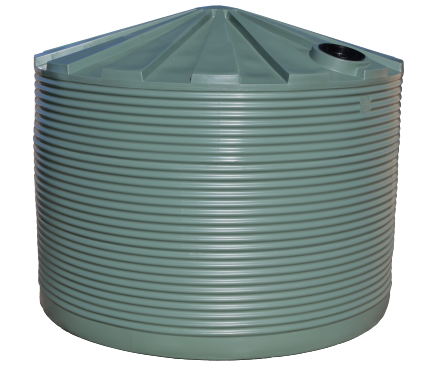 Storing water
Australia is the driest continent in the World, so by installing a Kilkee Rainwater Tank you will be able to harvest what precious rainfall we do receive. The benefits of owning a sustainable Kilkee Rainwater Tank will allow you to capture clean drinking water for your home, whether on mains water or not. You can use the Rainwater tank to water your garden or vegetable patch. Water storage also acts as a safety measure in fire risk areas. By storing water, you have the flexibility to use it as you choose, whatever your needs.
Poly Rainwater tanks with food grade virgin plastics
Our Kilkee Rainwater Tanks are made with food grade virgin plastics to ensure no contamination at all. We offer a large range of products, from 1000L to 24,000L in the Round Corrugated design, and also 1000L Slimline Tanks for tight spaces. To ensure you are maximising your capacity and optimizing your space CALL HERE or use our RAINWATER CALCULATOR to find out which option is best for you.
Poly Rainwater tanks in a range of Colorbond (trademark) colours
All of our Poly Rainwater tanks come in a range of Colorbond (trademark) colours, allowing you to customise the tank to suit your property, and to blend in with your natural environment. 
We offer a range of different tank designs to suit your needs. Our corrugated design offers additional strength with extra thick walls to ensure the risk of warping or splitting is eliminated. These Poly Rainwater Tanks are built specifically for the South Australian market, and are backed by an extended 20 Year guarantee for additional peace of mind.
Click on the colour to view in larger format.
Details & Specifications
STANDARD FITTINGS
3,300L – 11,500L INLET 300mm (diameter) includes a leaf strainer + UV light shield.
22,500L – 24,000L INLET 400mm (diameter) Note: A 400mm 'manhole' cover can be supplied in lieu of the leaf strainer + UV shield in the 22,500L + 24,000L tanks at an extra cost.
OVERFLOW: 90mm
3,300L – 11,500L OUTLET: 25mm (1") Brass
22,500L – 24,000L OUTLET: 50mm (2") Brass
BALL VALVE: 25mm (1") – 3,300L – 11,500L only
OPTIONAL EXTRAS
Check with us if you require additional fittings. CFS fittings also available for an additional charge. It includes…
OUTLET: 32mm (1¼) 40mm (1½) 50mm (2")
LONDON OR STORTZ FITTING: 50mm (2")
BALL VALVE: 50mm (2") Chrome Plated Full Flow
| | | | | | |
| --- | --- | --- | --- | --- | --- |
| LITRES | GALLONS | DIAMETER (METERS) | WALL HEIGHT | INLET HEIGHT | TOTAL HEIGHT |
| 3,300 | 725 | 1.49 | 1.49 | 2.06 | 2.06 |
| 5,000 | 1,000 | 1.82 | 2.00 | 2.05 | 2.40 |
| 9,000 | 2,000 | 2.37 | 2.15 | 2.20 | 2.40 |
| 11,500 | 2,500 | 2.60 | 2.15 | 2.25 | 2.55 |
| 22,500 | 5,000 | 3.56 | 2.32 | 2.38 | 2.90 |
| 24,000 | 5,300 | 3.60 | 2.40 | 2.50 | 2.90 |
All tanks are nominal sizes and slight variances may occur in actual sizes due to the roto moulding process